Largest rooftop solar farm in Europe to be built in Győr, Hungary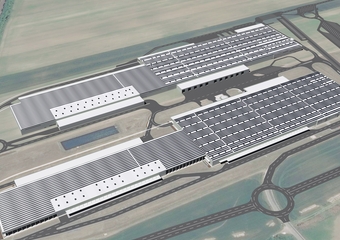 2019. 02. 15.
• Audi Hungaria and E.ON are collaborating on the project
• The solar farm will cover a total rooftop area of around 160,000 m²
• It will produce at least 9.5 GWh/year of renewable energy from 2020

Győr, 15 February 2019 – E.ON will install a solar farm with an installed peak power of 12 MW on a space of around 160,000 m² over the rooftops of Audi Hungaria's two logistics centres. Once the project is completed, Audi Hungaria will have the largest photovoltaic system installed on a building in Europe on its premises. Construction will begin this August and green energy production is scheduled to start from January 2020.
"As a responsible company, we believe that keeping the environmental impact of our activity as low as possible is of key importance. Nearly 70 per cent of Audi Hungaria's energy supply is already covered by renewable geothermal energy. Our stated aim is to make Audi Hungaria a carbon-neutral company. Through this solar farm, we are taking another step in that direction", said Achim Heinfling, Chairman of the Board of AUDI HUNGARIA Zrt.
"Our company is committed to solutions for a sustainable future. An important part of this is promoting the broad adoption of solar energy. We are delighted that E.ON has received this vote of confidence and we are launching a nearly 25-year collaboration between our companies. Last year we established our first solar farms in Szigetvár and Mohács on a total area of 100,000 m², and taking our renewable energy use to a whole new level. The solar farm to be installed in Győr will be another large step", said Zsolt Jamniczky, Member of the Board of E.ON Hungária.
As part of our collaboration, Audi Hungaria will provide two rooftop spaces, each around 80,000 m², over its logistics centres for the construction of a solar farm. It is planned to be the largest rooftop solar project in Europe. Consisting of 35,000 solar panels, the farm will be put into service and operated by E.ON and will produce over 9.5 GWh of energy a year. This amount of energy would cover
the energy needs of 5,000 households. Thanks to green electricity from renewable sources, around 6,000 tons less carbon dioxide will be emitted into the air.
Audi Hungaria set ambitious goals for environmental protection, including a decrease of its total energy consumption, carbon dioxide emissions, water consumption and waste. As a part of these efforts, 99.5 per cent of the waste generated by the company is now recycled and significant progress has been made in other fields as well.
E.ON pays particular attention both globally and in Hungary to the protection of our planet and therefore continuously works towards sustainable solutions for an energy and environmentally aware future, including solar and energy efficiency systems, establishing an electric mobility infrastructure, and excelling with other innovative, modern and reliable services in the world of new energy.
Downloadable files