"Aus Győr für die Welt - From Győr to the World": announces Zoltán Les, member of the Board of Management for Car Production, delivering the slogan almost as his initial greeting. It is a concept coming to life before our very eyes. A car rolls off the production line every 100 seconds, amounting to an annual output of nearly 160,000 vehicles. That's 770 a day, including 140 plug-in hybrid – or PHEV – models.
We are at quality control, in the delivery section of the vehicle assembly area – the end of the road. But let's start at the beginning!
Be more - give more


It's an obvious question: what do a world champion sailor and Audi Hungaria have in common? The answer is agility, or to be precise, the ability to change, to develop.

This is the starting point – in building G70. In the hall, a fiery red, all-electric Audi e-tron GT (every part of the exterior bodywork is made in the Tool Factory here) and the 100 per cent local Q3 PHEV are tangible proof of the focus on electromobility in the company's present and near future.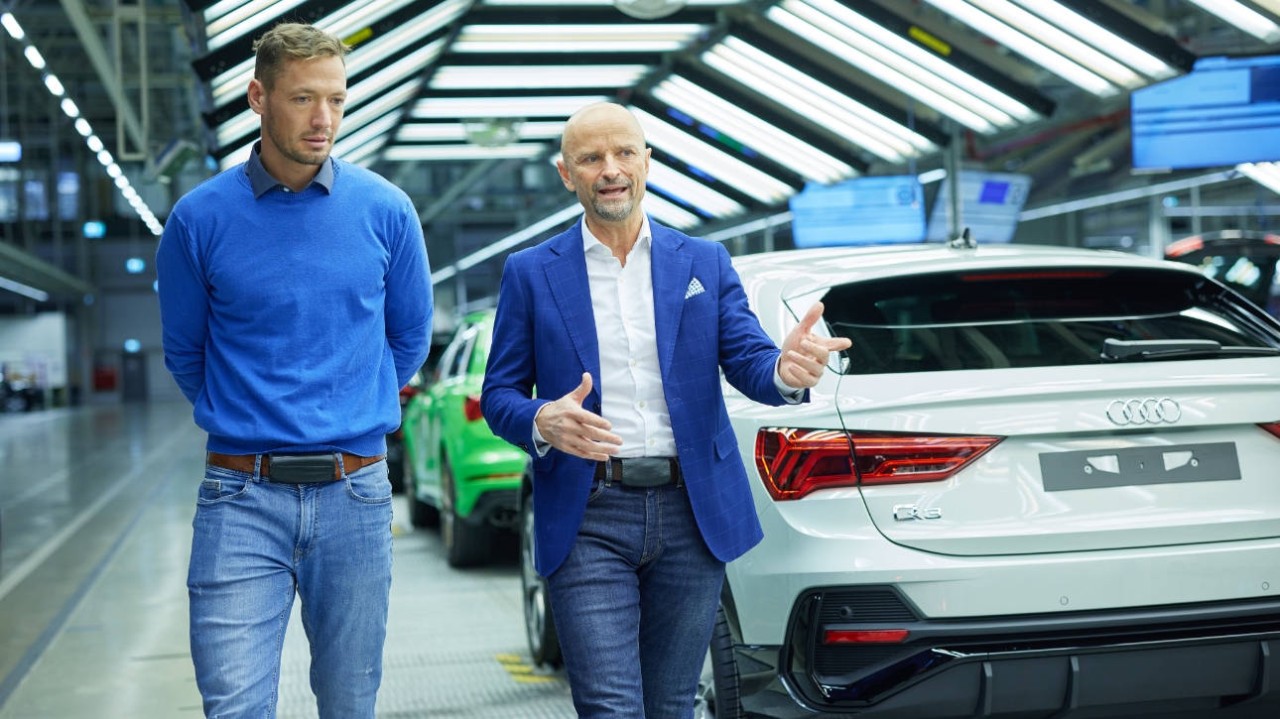 "In our industry, one of the biggest mid-term challenges is the transition to electromobility. Due to a number of factors, in particular customer demand, the evolution of the macro environment, and the semiconductor supply that impacts our everyday work, we can only estimate the extent and speed of this transition, and the time needed for a complete transformation. The parallel development of internal combustion engines and electric vehicles requires considerable resources, and implementing this in an economical way is the biggest task for the next 5-15 years. While the chip supply – or rather the lack of it – means we are having to re-plan our production schedule on a weekly basis, this doesn't influence the mid-term transformation. In terms of individual mobility, right now we can't see any other path, only electromobility. We need to handle this high degree of complexity in line with the needs of our customers, something that requires great flexibility. There are currently four models – and their various versions – produced in Győr. We are building both conventional and electrical drivetrains to ensure we are ready for the future," Zoltán explains. He also has a passion for sport – he regularly runs, cycles and competes in triathlons, and is a member of the Audi Hungaria dragon boat team.
"We need to handle this high degree of complexity in line with the needs of our customers. There are currently four models – and their various versions – produced in Győr. We are ready for the future."
Zoltán Les
Adding weight to his words, as Zsombor steps past the e-tron GT, he caresses the cars with both his eyes and hands. Though the e-tron GT has swept the sailor off his feet, he says he is reaching a turning point in his life: his third child is on the way, and he now looks at cars with a more critical eye, with space a major factor. Whether there's enough room for the child seats and kids' stuff, as well as his fishing equipment. Zsombor, too, is in a period of transition. "I'm going to keep competing, but not at the same level and tempo. I just can't fit in spending 260 days a year away from my family. Especially as I'm soon going to take over the management of the Procelero sailing school in Csopak from my wife. We are now setting up the basics in the school to ensure we have the right conditions to work with children. My goal is to transmit knowledge: not just my own, but also that of the team that has formed around me over the years," Zsombor explains.

Missions

We walk over to the Tool Factory where Volkswagen and Audi Group's exclusive models: parts of the bodywork of the e-tron GT, the Lamborghini Huracan, Aventador and Urus models, as well as the Bentley Bentayga are all made. All in line with the key words of the division: competence and meeting the needs of the customer.
A robot in the manufacturing cell catches our eye: it is preparing the mudguard for an e-tron GT. Though the unit doesn't run itself, everything apart from moving the piece along the line is automated, and the machine even swaps tools for itself before the next work process.

"We designed the robots on site," says Zoltán. Zsombor nods appreciatively, making a note – he too is motivated by challenges, not just when racing, but in his everyday work and his future in sailing instruction. "That's what I was looking for with the new programme: who I could transfer my experiences to and how. I thought over my own career and those of other people who were really successful in sailing. One common thread was that none of us received a load of money from our parents: we had to struggle a lot to achieve our successes. The ones who had greatest momentum were those where sport was a breakthrough point in their life. Which is why I want to go to the villages around Lake Balaton and talk to the PE teachers and parents – if we can spot an agile kid who otherwise wouldn't have an opportunity to sail, we can give them a chance. We will select 10-15 children from less affluent families who will be able to go sailing as part of the programme – as long as their academic results are up to scratch. They can learn with us, too. If someone doesn't keep up, they'll leave the system. Basically, I want to give children a life goal. Sailing in Hungary has reached a mature enough stage to offer a long-term professional career," says Zsombor.

"Your passion is sailing, ours is cars," says Zoltán, drawing the parallel. They will develop this thought further, of course, but later. For now, we have arrived at a new location.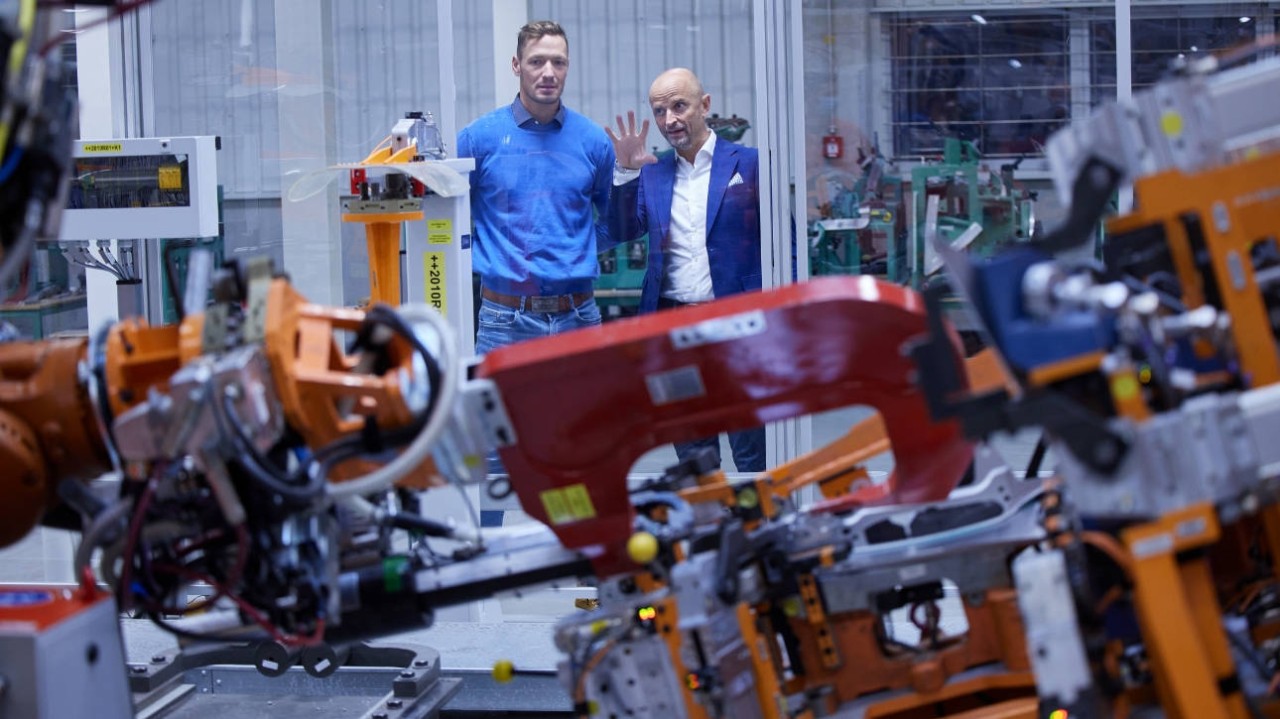 High-class precision
The tool factory's flexible robot cells make the body parts of the audi e-tron gt, among other things
"My goal is to transmit knowledge: not just my own, but also that of the team that has formed around me over the years."
Zsombor Berecz

Passion = extra thrust


Our next step is the Tool Factory's light tunnel. In the 'chapel' for surface tests, bathed in light, we drop in to see a quality assurance inspection of the left-front door and bumper of an e-tron GT. Here, no surface flaws remain undetected. Everything is under strict scrutiny: what movements to make, how big and with what grain size to work on the given part.
We also take a look at the wrecking cabin, where the strength of the part and bonding technology are examined, before returning to the topic of passion.
"Unlike competencies, passion cannot be taught and is hard to develop," says Zoltán, stroking the door of the e-tron GT.

On a daily basis, you might be given another objective, or encounter a sidewind or headwind, a tricky challenge, anything... You can only overcome these through competency, passion and intrinsic motivation. A company requires the same competencies as individual athletes, and the components of success are the same: goal orientation, ideas, work, persistence and teamwork. Of course, the question is what you do when faced with a strong wind – both literally and figuratively. At the 2018 Sailing World Championships in Denmark, Zsombor saw an actual gale as an opportunity – he caught it with his sail and finished the race to win the gold medal.

"Before I was established as a professional athlete and had a stable set-up, I often had doubts. But I didn't show it, I just stayed determined and kept on doing my thing. The members of my team saw me as unwavering and confident, which made them stronger, and they did their work with such a strong sense belief that it took my own doubts away," Zsombor highlights the exciting cycle of cause and effect.

We quickly come to a common denominator in terms of team dynamics.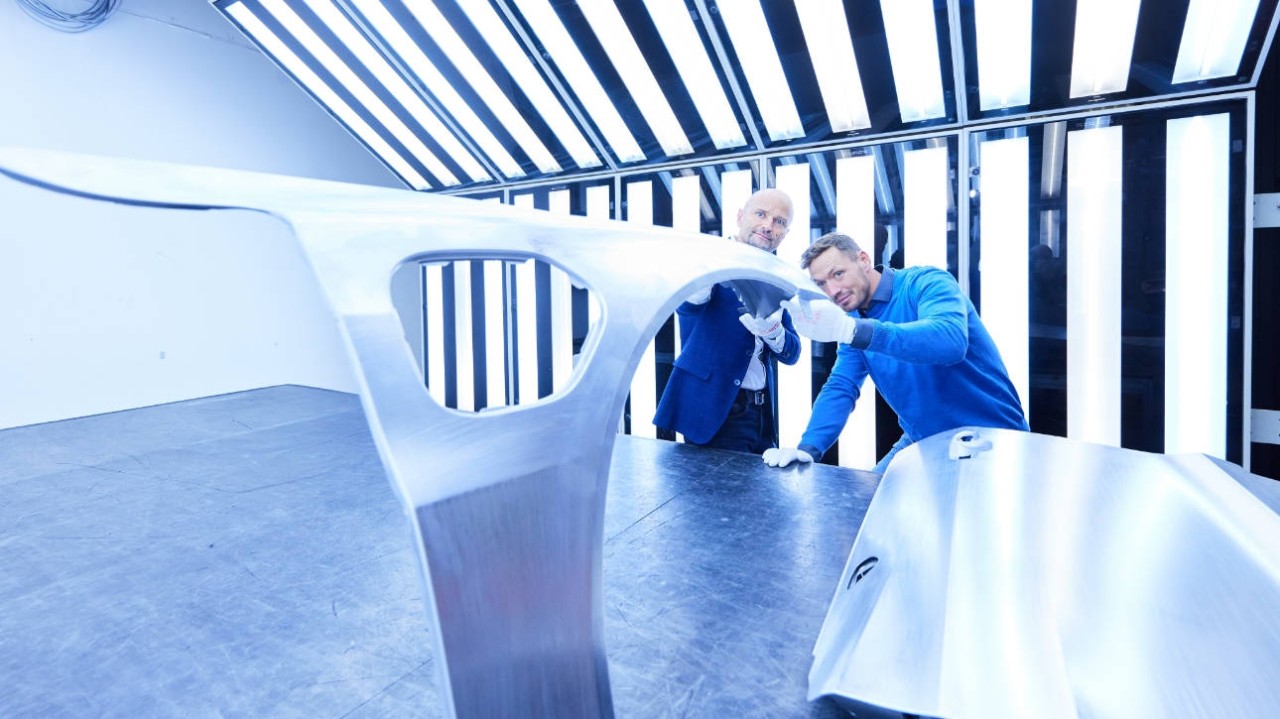 Everything comes to light
In the light tunnel quality control checks, nothing remains undetected.
"A company requires the same competencies as individual athletes – the components of success are the same: goal orientation, ideas, work, persistence and teamwork."
Zoltán Les
"You can only make progress if your team see that you believe in what you represent. That's what makes you authentic, which is one of the most important qualities in a leader," says Zoltán as we head towards vehicle assembly.


Indivisible


The word "hochzeit", meaning "wedding" (but literally "high time"), speaks for itself. The body and chassis are integrated here inside the assembly area. While robots play the key role in the mechanical gripper, equipment handlers around them rush and supervise their work.
While Zsombor tells us the role played in his decision to enter semi-retirement by the imminent arrival of his third child and the fact that the Finn dinghy, in which he has achieved such outstanding success, was now out of the Olympic program, we identify another parallel – time, and timing.
Audi Hungaria has been moving forward toward electromobility since 2018, beginning with the start of mass production of electric motors in Győr. This was followed by the first electric drive chain mild-hybrid models, and, in 2020, the mass production of plug-in hybrid models.
"We are successful when we manage to implement a new chapter in such a way that production remains unaffected, because if we can optimise resources, we are able to integrate the new process into the existing production system. With PHEV, we did this without any problems – we were able to produce these cars on the same line as our previous products," says Zoltán.

That was one of a number of challenges. Another was the development of the competencies of the staff, to prepare them for expansion and change. The PHEV model has a 384-volt system voltage that the company's employees had to learn to handle: 1,500 people went through the multi-stage training process. This meant that work began on the project in Győr nearly three years in advance – the PHEV "start button" could only be pressed at the end of a long preparation process, and as a result of effective teamwork.

Zsombor hasn't made his own decisions overnight, either, be it in the present day, or in 2013, when he changed from Laser class to the Finn dinghy. "I had to think about what the future held for me. In sport, almost everything can be modelled and measured. Including feelings and dispositions. In 2013, I made the decision using some simple indicators: my height is 196 cm, I weigh 82 kg with 3% body fat, so in the long term, I couldn't compete in the Laser on a day-today basis, because I didn't have enough reserves in my body. So that left me with the next class, the Finn dinghy. Could I have taken the decision sooner? I believe that this was the road I had to travel."

And how has that journey been? Often stormy, though at the 2008 World Cup Championships in Australia – still competing in the Laser class – Zsombor surprised himself: out of nowhere, he made the Beijing quota. He marks this Olympics as the dividing line in his career. From then on, he saw himself as an elite sportsman, though he would have to work extremely hard for another 8 years to put the training programme, funding and team together to begin the fight for an Olympic medal – which he finally won in the summer of 2021, in Tokyo.
From Győr to the World

Our factory tour has come to its final stop. Vehicle assembly, transfer area, quality control. The last stop of many.
One of the many vehicles waiting for quality assurance staff to review it (with the critical eye of a customer) and take it over is a grey, right-hand drive (ordered from Japan) PHEV model . Each of the cars that roll off the production line is made to order, according to individual needs.

Zsombor looks at the car for a long time. "When I'm driving, I sometimes return to the routine I picked up in sailing, like at traffic lights, or multi-lane intersections: I pull over to the right, which is often empty, and 'leave everyone in my dust', just like in the races," says Zsombor with a smile, and we start counting again.

By the time we reach one hundred, another car is ready to set off on its journey.

"Aus Győr für die Welt – From Győr to the world."